Susi Live: Videos and Interviews
Here is a selection of videos of Susi speaking at public events about various aspects of her work.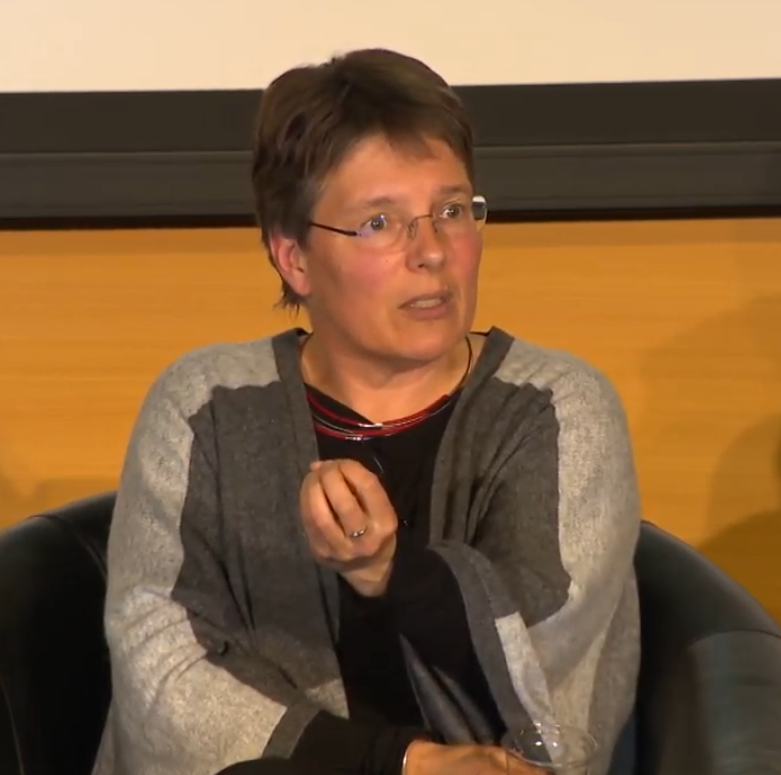 MIT Climate Action Symposium: Adaptation (2019)
Susi gave a brief talk about the state of US adaptation and then participated in a panel discussion on adaptation policy challenges. You can watch her talk (and the panel discussion that followed) here, and check out teh other symposia here.
The Tide Is High But I'm Holdin' On (2019)
In this Podship:Earth podcast with Jared Blumenfeld, Susi talks about hope. Listen to the whole episode here.
Terra Verde Radio Interview, KPFA, San Francisco (2019)
Susi was interviewed along with her friend and long-term collaborator, Max Boykoff (University of Colorado-Boulder) about the challenges of climate change communication at this time. Listen to it here.
California's Fourth Climate Change Assessment (2018)
The California Energy Commission interviewed Susi on her work, helping California prepare for the impacts of climate change.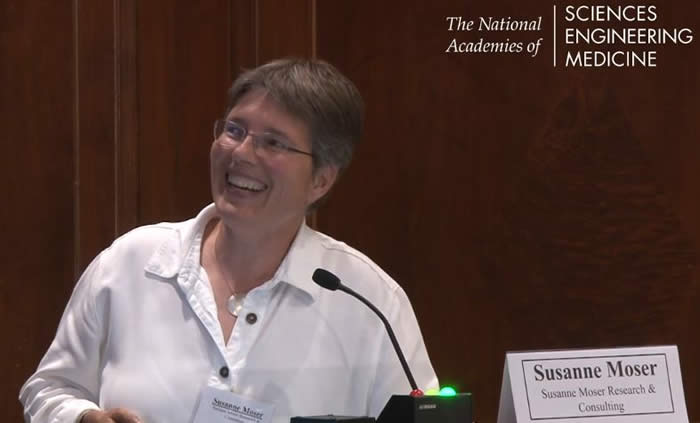 Making Climate Assessments Work: Learning from California and Other Subnational Climate Assessments (2018)
In this National Research Council workshop, Susi shares insights gained from participating in and resarching assessments. You might find all contributions valuable. Susi's begins at Minute 49.
Listening for Signal (2016)
In this film, Susi and a circle of women - scientists, writers, humanists, artists - share with each other what it means to them to face our uncertain human future under climate change.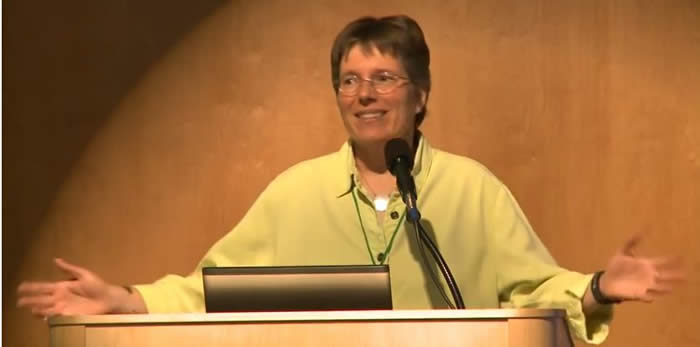 Hope: Bridge Without Railing (2015)
Susi gave one of the keynote addresses at the Conference on Communication and Environment (COCE) conference in Boulder in June 2015. It starts around minute 10.
No Prospect of an End (2015)
Susi participated in a panel discussion on coastal resilience at the University of California-Santa Cruz's 2015 Climate & Policy Conference. It's worth listening to the whole event, but her initial remarks start at minute 25.
Critical Issues in Adapting to Climate Change (2015)
In this podcast, Susi and other colleagues speak to the adaptive challenge that sea-level rise poses to everyone living and working on the coast.

Restore America's Estuaries and The Coastal Society Plenary (2014)
Susi was invited to give the opening keynote address at this biannual meeting. After a few introductory remarks, her speech begins around minute 35. The presentation slides are available here.
Social Transformations to Sustainability workshop (2014)
In November 2014, Susi co-lead a workshop on social transformations to sustainability in Potsdam, Germany. This video clip offers some highlights.
White House Event: Release of the US Third National Climate Assessment (2014)
On May 6, 2014 Susi hadthe priviledge of participating in an event at the White House, speaking about coastal vulnerabilities and responses to the impacts of sea-level rise.
Climate Access Rountable on the National Climate Assessment (2014)
Susi participated in a webinar with others involved in the NCA and other communication experts on how to communicate the assessment findings.
Yale Forum on Climate Change and the Media (2014)
A conversation about climate change communication challenges with Richard Alley, moderated by the Yale Forum's Bruce Lieberman.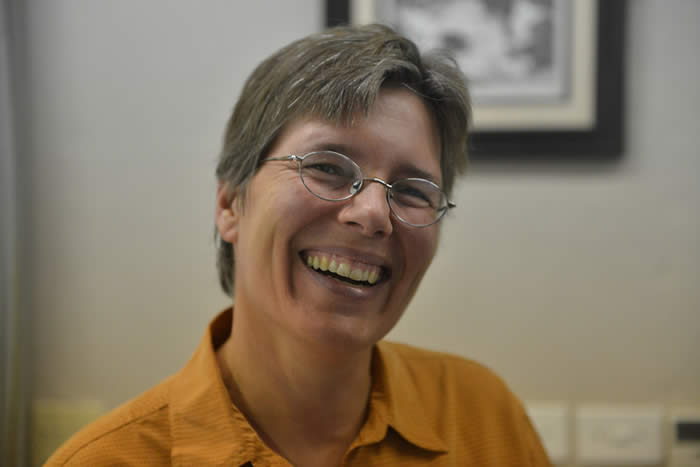 Governor Jerry Brown's Climate Changers Video Project (2013)
Susi was interviewed by Stanford University students for Governor Brown's video project, explaining how climate change is not just a global issue, but also a local one affecting Californians now.
Insurance in an Era of Climate Change (2013)
Susi participated in an event on how climate change affects insurance matters on June 28, 2013 in Pasadena, CA, The event was sponsored by the Union of Concerned Scientists, held with California Insurance Commissioner Jones and hosted by California State Senator Carol Liu.
Radio Interview on China's "Voices from Other Lands" (2013)
Susi was interviewed by Yunfeng Zheng together with her friend and colleague, Dr. Anthony Leiserowitz, during a climate change communication conference in Beijing. Listen to it here (the segment with Susi starts around minute 12).
IPCC, Special Report on Extreme Events (2012)
Susi was one of several scientists interviewed in the video In Harm's Way, which accompanies the IPCC's Special Report on Managing the Risks of Extreme Events and Disasters to Advance Climate Change Adaptation, November 2011.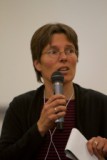 Radio Interview on her chapter "Getting Real About It" (2012)
Susi was interviewed by the Canadian Radio Ecoshock about her publication about environmental leadership in a time of climate change ("Getting Real About It"; you can find it here). Listen to it here.
Briefing for Congressional Staff on Adaptation (2010)
Susi participated in a Congressional briefing organized by the American Meterological Society (AMS) on the state of adaptation to climate change impacts in the US in January 2010.